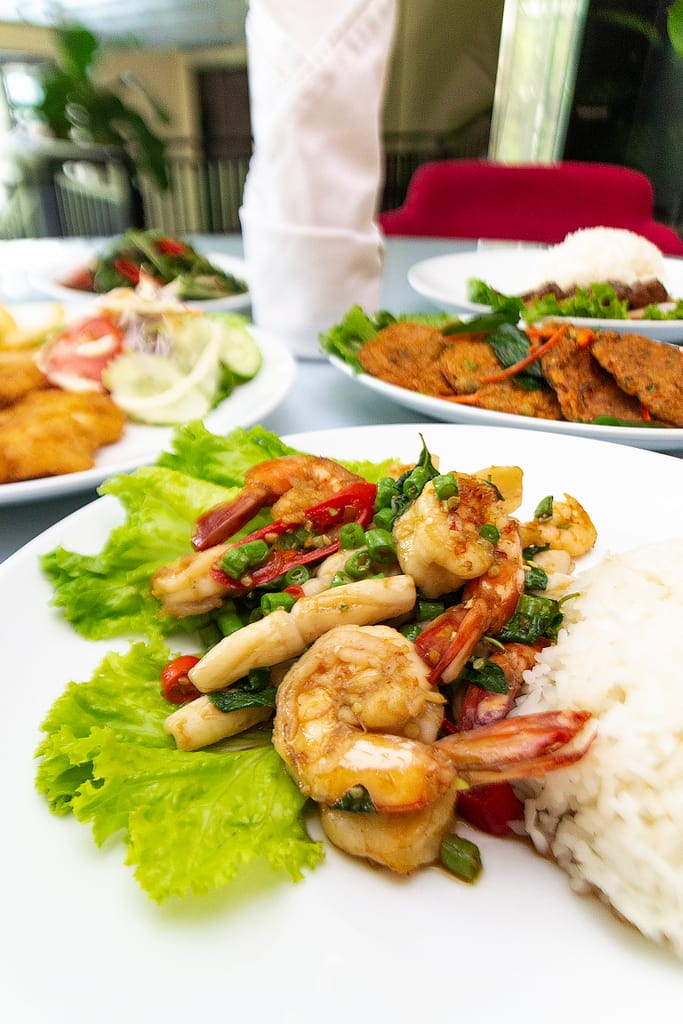 Phat kaphrao consists of meats such as pork, chicken, beef and seafood fried with Thai holy basil and garlic. Served with rice and topped with (optional) fried egg or khai dao (Thai: ไข่ดาว). The main condiments are soy sauce, Thai fish sauce, oyster sauce (optional), cane sugar and cayenne pepper.
According to some accounts, phat kaphrao was included as part of Thai Prime Minister Field Marshal Plaek Phibunsongkhram's cultural mandate during World War II. Phat kaphrao, as well as pad thai, are among the dishes promoted in Thai local food contests.
Phat kaphrao is inspired by stir fry, a staple of Chinese cooking.
Over time, phat kaphrao has evolved with the addition of other ingredients such as Chinese century eggs and local Thai vegetables, namely asparagus beans, young corn, onions, carrots, cowpeas, banana peppers, mushrooms, Chinese kale, bamboo shoots and bamboo shoots.

Enjoy our selection of the best Thai Cuisine experiences at Lotus Restaurant.
Opening hours : 7am – 11pm